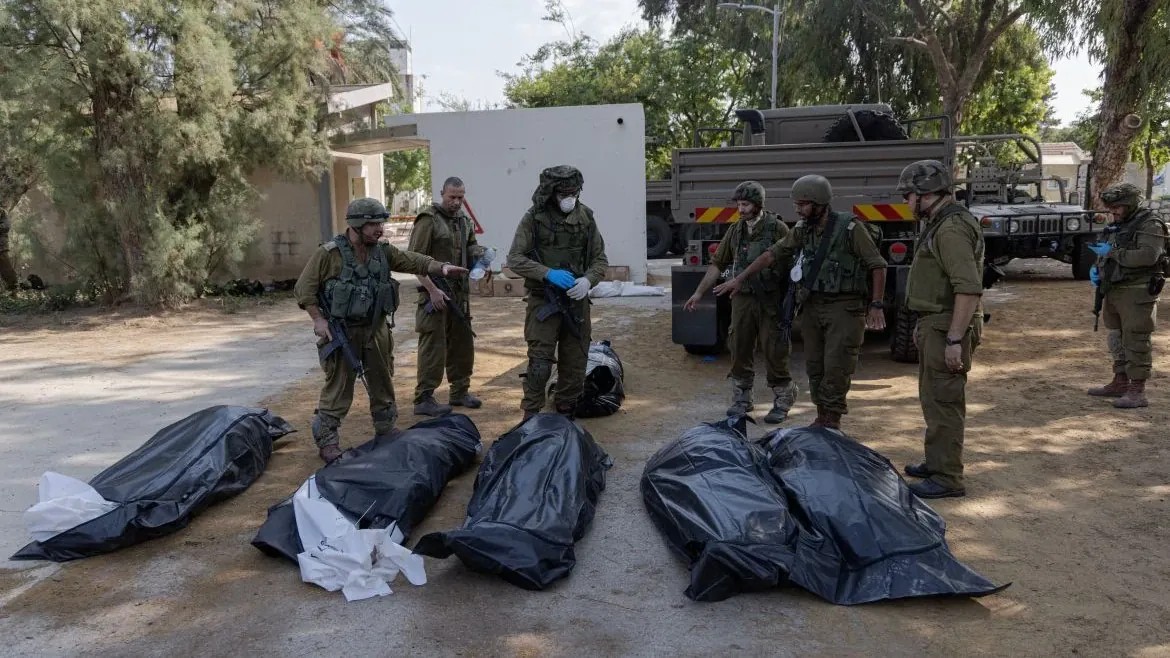 A survivor from the Palestinian resistance offensive on Israeli settlements on 7 October says the Israeli army is "undoubtedly" responsible for killing many of their civilians.
"They eliminated everyone, including the hostages, because there was very, very heavy crossfire," 44-year-old mother of three Yasmin Porat told the Haboker Hazeh radio program on Israeli Kan radio last week.
When the interviewer asked if Israeli troops were responsible for civilian deaths, Porat said, "Undoubtedly." Her interview has been scrubbed from the online version of Haboker Hazeh and the Kan website; however, Electronic Intifada procured a copy and translated it from Hebrew.
"There are five or six hostages lying on the ground outside. Just like sheep to the slaughter, between the shooting of our commandos and the terrorists," Porat describes.
Porat says that, before the arrival of Israeli troops, she and other civilians had been held by the Palestinians "for several hours" and treated "humanely."
"They did not abuse us. They treated us very humanely," Porat said, adding, "They give us something to drink here and there. When they see we are nervous, they calm us down. It was very frightening, but no one treated us violently."
She recalled one Palestinian fighter who spoke Hebrew saying: "Look at me well, were not going to kill you. We want to take you to Gaza. We are not going to kill you. So be calm, you're not going to die."
"I was calm because I knew nothing would happen to me," she added.
Furthermore, during a lengthy interview on Israel's Channel 12, Porat speaks of intense gunfire after Israeli forces arrived and elaborates that, although the resistance fighters were heavily armed, she never saw them shoot captives or threaten them with their guns.
She also highlights that the Israeli army announced their arrival at the settlement "with a hail of gunfire," catching the resistance fighters and their captives by surprise.
Her account echoes that of another Israeli settler who spoke with Channel 12 last week about her experience as a prisoner of war (POW) of Hamas.
"Don't worry, I'm a Muslim, we won't hurt you."

Hebrew Channel 12: Israeli settler shares her experience with Hamas fighter after the resistance infiltrated the settlements. pic.twitter.com/dWv9MP9iYF

— The Cradle (@TheCradleMedia) October 10, 2023
The accounts from survivors stand in stark contrast to the widespread claims found in western media outlets that say Hamas forces did everything from "beheading babies" to torturing and raping settlers.
Salah al-Aruri, Deputy Head of Hamas' Political Bureau, last week addressed claims that resistance fighters were ordered to deliberately kill as many Israeli settlers as possible, telling Al Jazeera TV that fighters from the Qassam Brigades – the military wing of Hamas – were "under strict protocol to not harm civilians."
He also said that after Israel's Gaza division disintegrated in the face of the Gaza factions, others rushed the border, "causing chaos." Furthermore, he notes that some of the deaths of Israeli settlers are a result of the so-called 'Hannibal Directive,' which is a protocol that allows Israeli soldiers to use overwhelming force to kill one of their own captured soldiers rather than allow them to be taken, prisoner.
"We are certain that young men [fighters] were bombed along with the prisoners who were with them," Aruri said last week.
According to the Israeli army, at least 199 settlers were taken as POWs by the Palestinian resistance. The Israeli death toll from Operation Al-Aqsa Flood stands at over 1,300.
---
* This article was automatically syndicated and expanded from Popular Resistance.