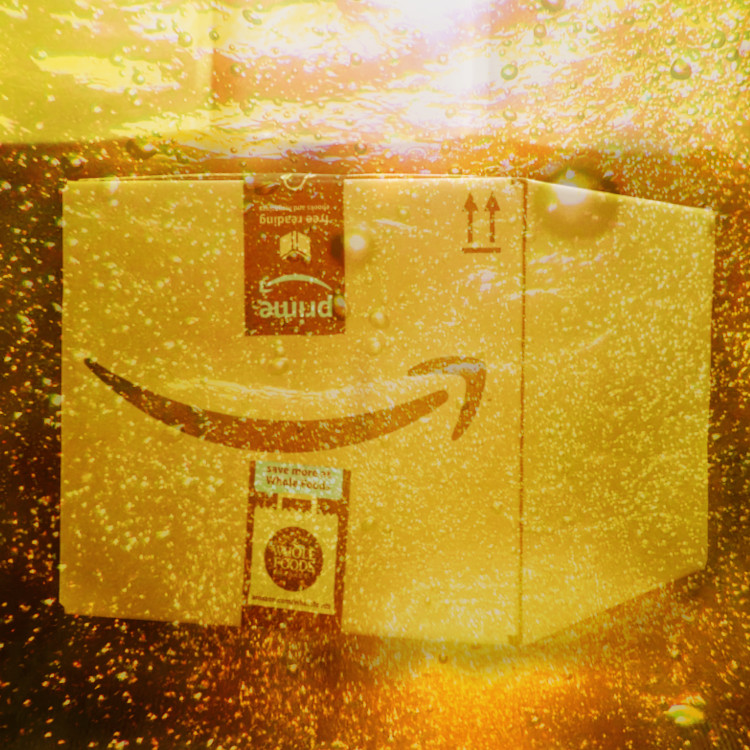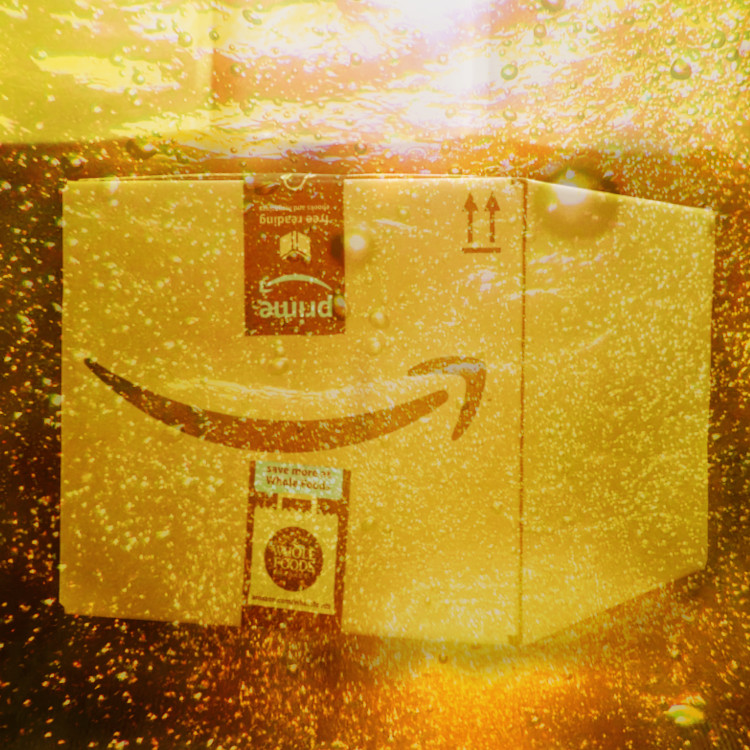 For a brief time this year, the bestselling "bitter lemon drink" on Amazon was "Release Energy," which consisted of the harvested urine of Amazon delivery drivers, rebottled for sale by Catfish UK prankster Oobah Butler in a stunt for a new Channel 4 doc, "The Great Amazon Heist" (must have UK IP address to access streaming video):
Collecting driver piss is surprisingly easy. Amazon, you see, puts its drivers on a quota that makes it impossible for them to drive safely, park conscientiously, or, indeed, fulfill their basic human biological needs. Amazon has long waged war on its employees' kidneys, marking down warehouse workers for "time off task" when they visit the toilets.
As tales of drivers pissing – and shitting! – in their vans multiplied, Amazon took decisive action. The company enacted a strict zero tolerance policy for drivers returning to the depot with bottles of piss in their vans.
That's where Butler comes in: the roads leading to Amazon delivery depots are lined with bottles of piss thrown out of delivery vans by drivers who don't want to lose their jobs, which made harvesting the raw material for "Release Energy" a straightforward matter.
Butler was worried that he wouldn't be able to list his product on Amazon because he didn't have the requisite "food and drinks licensing" certificates, so he listed his drink in Amazon's refillable pump dispenser category. But Amazon's systems detected the mismatch and automatically shifted the product into the drinks section.
Butler enlisted some confederates to place orders for his drink, and it quickly rocketed to the top of Amazon's listings for the category, which led Amazon's recommendation engine to start pushing the item on people who weren't in on the gag. When these orders came in, Butler pulled the plug, but not before an Amazon rep telephoned him to pitch him turning packaging, shipping and fulfillment over to Amazon:
https://www.wired.com/story/amazon-let-its-drivers-urine-be-sold-as-an-energy-drink/
The Release Energy prank was just one stunt Butler pulled for his doc; he also went undercover at an Amazon warehouse, during a period when Amazon hired an extra 1,000 workers for its warehouses in Coventry, UK, in a successful bid to dilute pro-union sentiment in his workforce in advance of a key union vote:
https://jacobin.com/2023/10/the-great-amazon-heist-oobah-butler-review
Butler's stint as an Amazon warehouse worker only lasted a couple of days, ending when Amazon recognized him and fired him.
The contrast between Amazon's ability to detect an undercover reporter and its inability to spot bottles of piss being marketed as bitter lemon energy drink says it all, really. Corporations like Amazon hire vast armies of "threat intelligence" creeps who LARP at being CIA superspies, subjecting employees and activists to intense and often illegal surveillance.
But while Amazon's defensive might is laser-focused on the threat of labor organizers and documentarians, the company can't figure out that one of its bestselling products is bottles of its tormented drivers' own urine.
In the USA, the FTC is suing Amazon for its monopolistic tactics, arguing that the company has found ways to raise prices and reduce quality by trapping manufacturers and sellers with its logistics operation, taking $0.45-$0.51 out of every dollar they earn and forcing them to raise prices at all retailers:
https://pluralistic.net/2023/04/25/greedflation/#commissar-bezos
The Release Energy stunt shows where Amazon's priorities are. Not only did Release Energy get listed on Amazon without any quality checks, the company actually nudged it into a category where it was more likely to be consumed by a person. The only notice the company took of Release Energy was in its logistics and manufacturing department – the part of the business that extracts the monopoly rents at issue in the FTC case – which tracked Butler down in order to sell him these services.
The drivers whose piss Butler collected don't work directly for Amazon, they work for a Delivery Service Partner. These DSPs are victims of a pyramid scheme that Amazon set up. DSP operators lease vans and pay to have them skinned in Amazon livery and studded with Amazon sensors. They take out long-term leases on depots, and hire drivers who dress in Amazon uniforms. Their drivers are minutely monitored by Amazon, down to the movements of their eyeballs.
But none of this is "Amazon" – it's all run by an "entrepreneur," whom Amazon can cut loose without notice, leaving them with unfairly terminated employees, outstanding workers' comp claims, a fleet of Amazon-skinned vehicles and unbreakable facilities leases:
https://pluralistic.net/2022/04/17/revenge-of-the-chickenized-reverse-centaurs/
Speaking to Wired, Amazon denied that it forces its drivers to piss in bottles, but Butler clearly catches a DSP dispatcher telling drivers "If you pee in a bottle and leave it [in the vehicle], you will get a point for that" – that is, the part you get punished for isn't the peeing, it's the leaving.
Amazon's defense against the FTC is that it spares no effort to keep its marketplace safe. As Amazon spokesperson James Drummond says, they use "industry-leading tools to prevent genuinely unsafe products being listed." But the only industry-leading tools in evidence are tools to bust unions and screw suppliers.
In her landmark Yale Law Review paper, "Amazon's Antitrust Paradox," FTC Chair Lina Khan makes a brilliant argument that Amazon's alleged benefits to "consumers" are temporary at best, illusory at worst:
https://www.yalelawjournal.org/note/amazons-antitrust-paradox
In Butler's documentary, Khan's hypothesis is thoroughly validated: here's a company extracting hundreds of billions from merchants who raise prices to compensate, and those monopoly rents are "invested" in union-busting and countermeasures against investigative journalists, while the tools to keep you from accidentally getting a bottle of piss in the mail are laughably primitive.
Truly, Amazon is the apex predator of the platform era:
---
* This article was automatically syndicated and expanded from Pluralistic.